RESEARCH
Repeat Expansion Diseases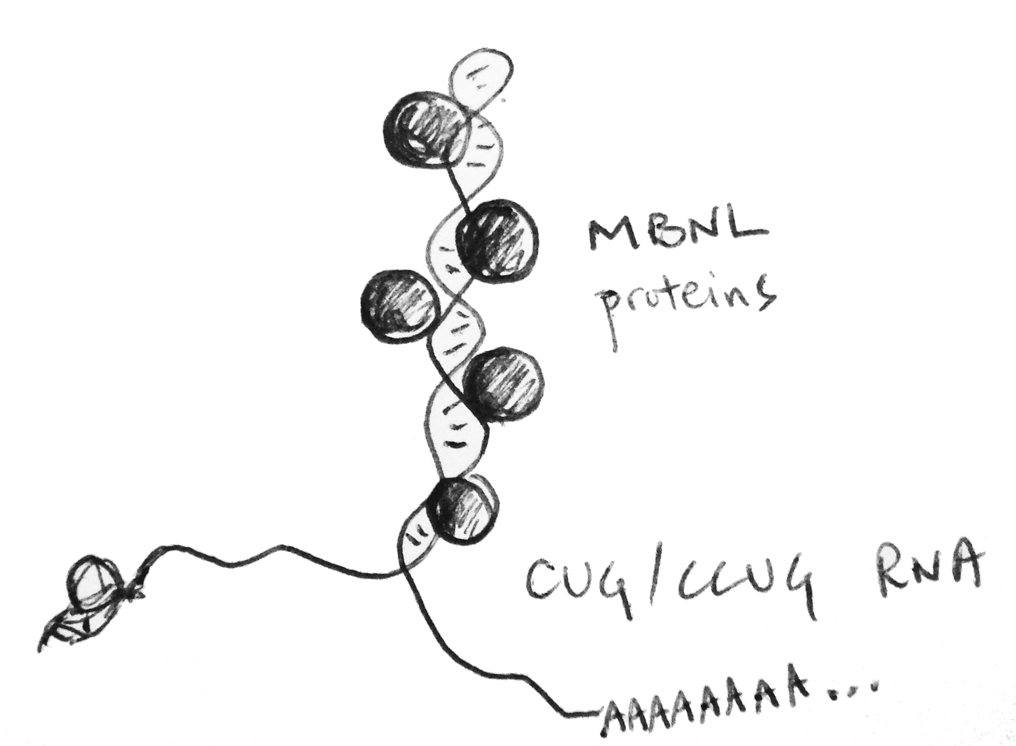 We are interested in all aspects of gene regulation and how its dysregulation causes symptoms in microsatellite repeat expansion diseases. Myotonic dystrophy (dystrophia myotonica, DM) is one of these repeat expansion diseases and has served as paradigm for a class of diseases caused by toxic RNA. We are using deep sequencing technologies, such as RNA-Seq and CLIP-Seq, in combination with molecular & cell biological techniques, to better understand how the repeating RNAs cause a myriad of symptoms in virtually all tissues of the body, including skeletal, cardiac, and smooth muscle, and also tissues of the central nervous system.
RNA Localization and Local Translation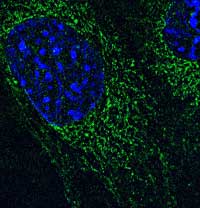 We found that the Muscleblind-like proteins (MBNLs), which are inactivated by the toxic RNA found in DM cells, also regulate the subcellular localization of many RNA species. We study how MBNL proteins can achieve these functions, and also how RNA localization is regulated at a basic level by RNA cis-elements and protein/RNA trans-factors. We aim to use both high-throughput, global approaches and high-resolution, single molecule approaches to define a "parts list" for RNA localization.
Development of Therapeutic Approaches
Our studies of DM pathogenesis and RNA regulation are in part driven by a desire to find treatments for DM and other related diseases. We work with diverse partners in both the academic and industrial space to make progress in this area, and are taking a number of approaches to develop therapeutics that may one day enter the clinic.
Publications
2018
2017
2016
2015
Antagonistic Regulation of mRNA Expression and Splicing by CELF and MBNL Proteins.

Genome Res, 2015.

Quantitative visualization of alternative exon expression from RNA-seq data.

Bioinformatics, 2015.
2014
Alternative splicing regulates vesicular trafficking genes in cardiomyocytes during postnatal heart development.

Nat Commun, 5: 3603, 2014.

Muscleblind-like 1 (Mbnl1) regulates pre-mRNA alternative splicing during terminal erythropoiesis.

Blood, 124 (4): 598-610, 2014.

Genomic analysis of RNA localization.

RNA Biol, 11 (8): 1040-50, 2014.
2013
MBNL proteins repress ES-cell-specific alternative splicing and reprogramming.

Nature, 498 (7453): 241-5, 2013.

Characterization of FUS mutations in amyotrophic lateral sclerosis using RNA-Seq.

PLoS One, 8 (4): e60788, 2013.

Skeletal muscle degenerative diseases and strategies for therapeutic muscle repair.

Annu Rev Pathol, 8: 441-75, 2013.
2012
2010
Global regulation of alternative splicing during myogenic differentiation.

Nucleic Acids Res, 38 (21): 7651-64, 2010.

Analysis and design of RNA sequencing experiments for identifying isoform regulation.

Nat Methods, 7 (12): 1009-15, 2010.
2009
Splice site strength-dependent activity and genetic buffering by poly-G runs.

Nat Struct Mol Biol, 16 (10): 1094-100, 2009.

An abundance of ubiquitously expressed genes revealed by tissue transcriptome sequence data.

PLoS Comput Biol, 5 (12): e1000598, 2009.
2008
Alternative isoform regulation in human tissue transcriptomes.

Nature, 456 (7221): 470-6, 2008.
2007
Biomechanical forces in atherosclerosis-resistant vascular regions regulate endothelial redox balance via phosphoinositol 3-kinase/Akt-dependent activation of Nrf2.

Circ Res, 101 (7): 723-33, 2007.
2006
Integration of flow-dependent endothelial phenotypes by Kruppel-like factor 2.

J Clin Invest, 116 (1): 49-58, 2006.

Gene expression changes evoked in a venous segment exposed to arterial flow.

J Vasc Surg, 44 (4): 863-70, 2006.